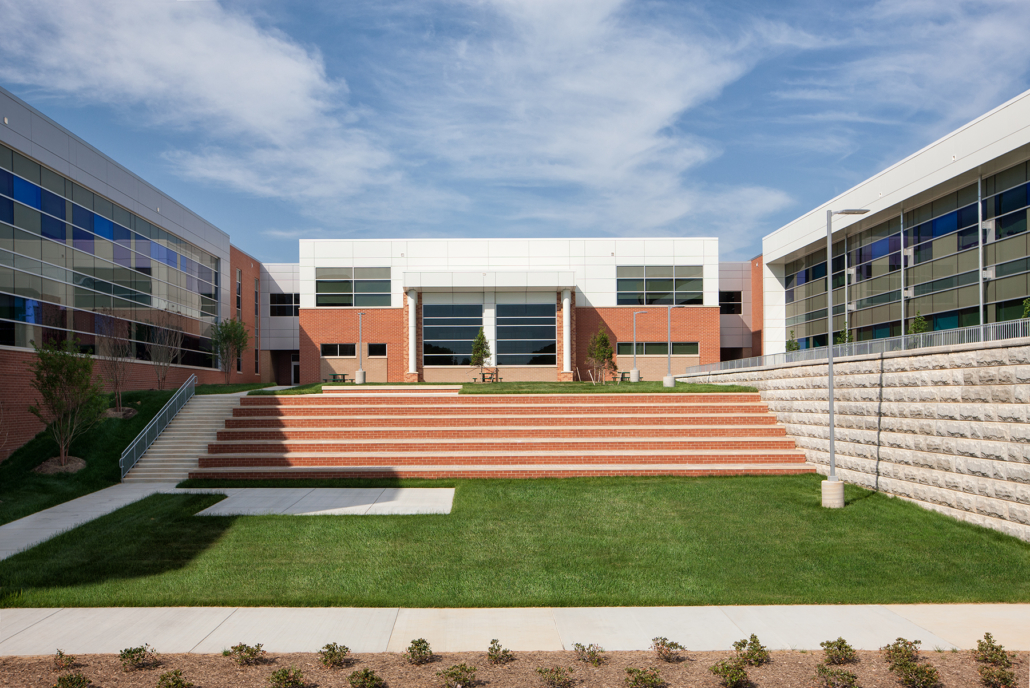 Moseley Architects was tasked to design the new state-of-the-art Huguenot High School to better serve students in Richmond, Virginia.
Huguenot High School replaced the existing high school, which had been in operation for almost 50 years. Constructed on the same site, the 253,821-square-foot facility serves 1,400 students and includes academic, athletic, and community-use functions. It houses a 3,800-square-foot health clinic for the community, which features two classrooms for adult education and a parent resource center for functions like job searches.
Classrooms are designed to serve a variety of uses and feature smart boards and cord-reels, which provide a retractable power source to transition between a teacher-led instructional space. Casework extends the learning environment and provides access to sinks and storage for STEM classes.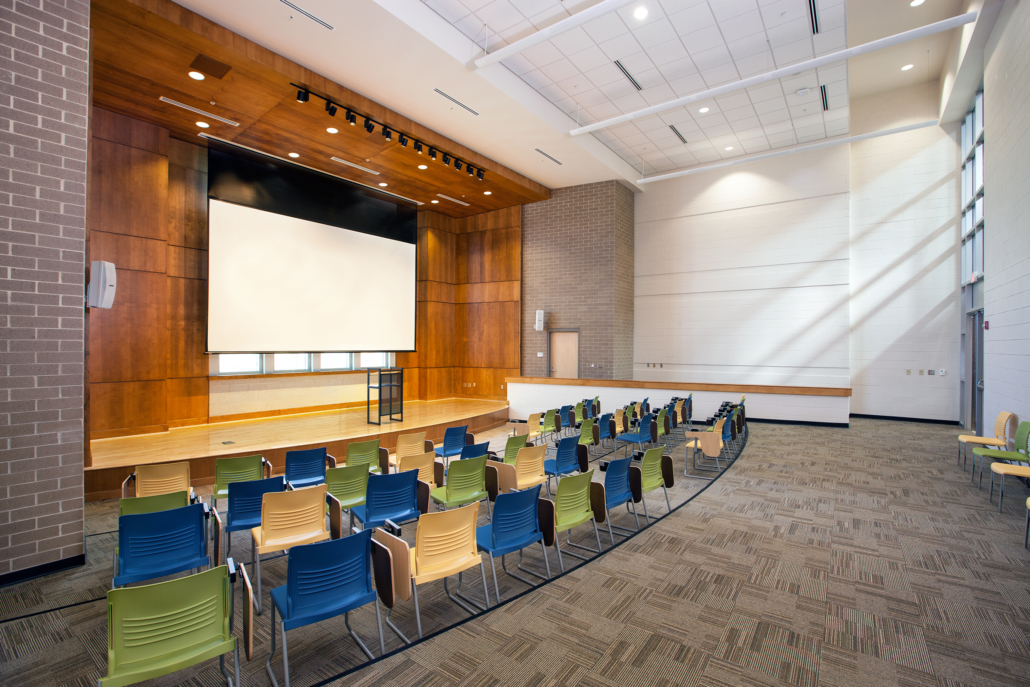 Additional multi-use rooms provide access for entire classes to learn specific programs together as well as small-group development programming. Large storage rooms provide a safe environment for student work to be housed until the next brainstorming session. Many of these spaces feature an abundance of glass to support supervision and foster collaboration, which includes the forum that provides space for student testing, school board meetings, community events, and collaborative meetings. The natural palate in the forum also features wood paneling, exposed brick, and natural light pouring in from multiple angles.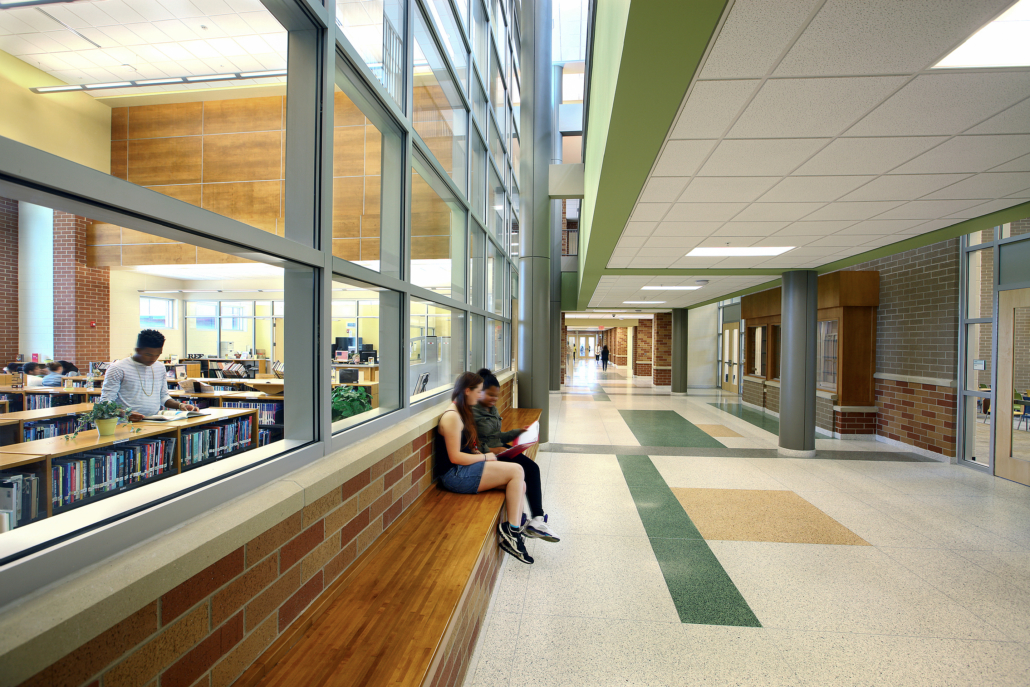 A two-story media center is designed to take advantage of exterior views and encourage student participation from both floors. By reducing the volume of books needed, the center is less traditional and offers a welcoming environment for down time and collaboration. Low shelves with solid maple tops provide space for student work to be exhibited and viewed from a distance.
The design features materials, textures, and colors that foster a secondary education. Display cabinets at the main entrance and throughout the building showcase student work. Paint, floor tiles, furniture, and other interior elements are inspired by colors found in the outdoor environment. Natural light brightens and warms interior spaces. A yellow accent handrail was utilized at all stairs to provide a pop of color and sense of wayfinding throughout the space.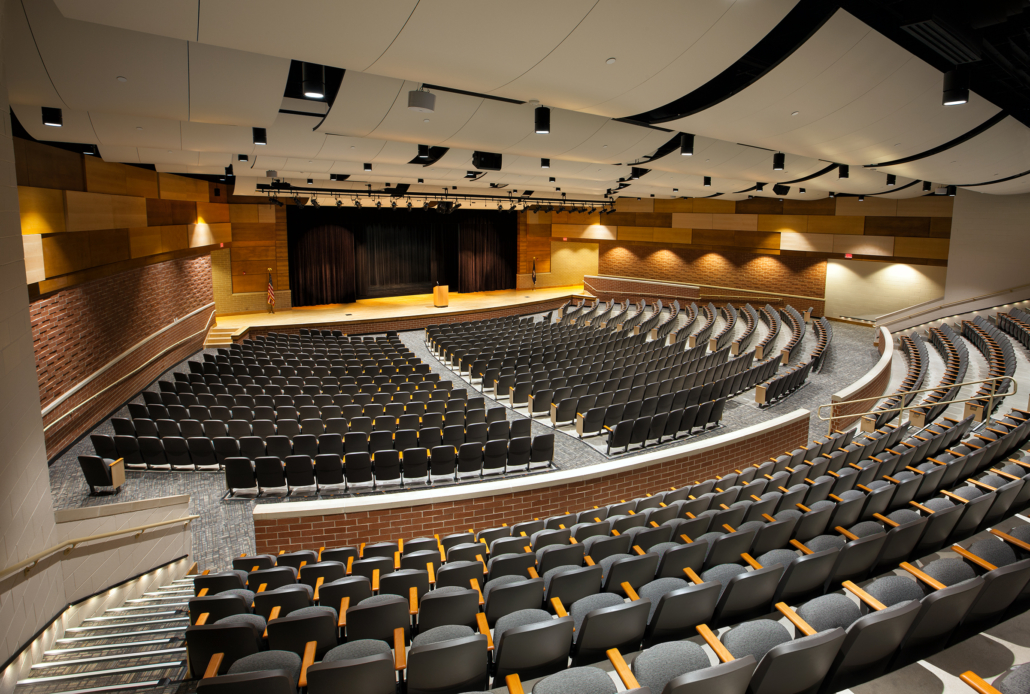 The school is strategically placed on the site so that the dining hall overlooks the 50-yard line, which offers an incredible view and brightens the space. The dining tables easily fold to be rolled out of the way. The tall ceilings and length of the space can accommodate ROTC drills, cheerleading practice, basketball scrimmages, and even transform into Friday night box-seats for the homecoming football game.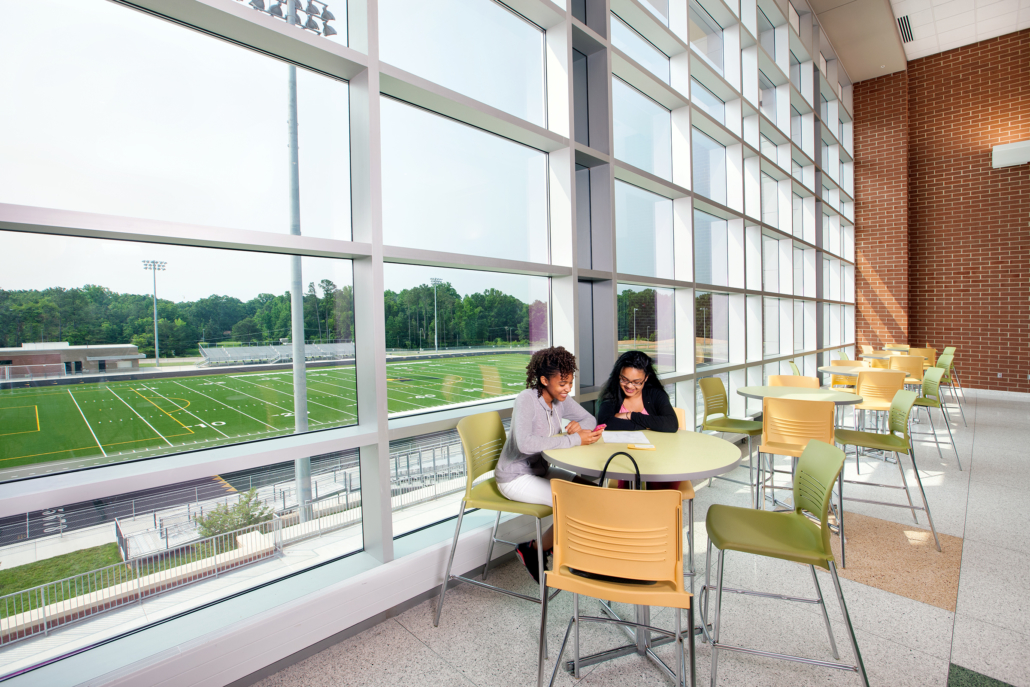 The blue panels on the exterior walls in the courtyard enhance the visual appeal of the shell. The softer blue line separates the finished floor and ceiling line making the facility's multiple stories distinguishable.
This project is LEED Gold certified with the U.S. Green Building Council and offers a vegetated green roof for socializing and learning.
Source: https://educationsnapshots.com/projects/15264/huguenot-high-school/ 
https://www.hessconstruction.com/wp-content/uploads/2021/03/0079-e1629742921992.jpg
1200
1797
Alina Alekseyev
https://www.hessconstruction.com/wp-content/uploads/2019/08/hess-logo-3.png
Alina Alekseyev
2021-03-24 18:18:34
2021-08-23 17:59:41
Huguenot High School Featured in Education Snapshots